Roll crusher WB-400-280-x
The WB-400-280-x crusher, a powerful, robustly designed crusher, specially designed for crushing bulk materials such as glass, stone and other materials.
A design and production of KUBLERA MASCHINENBAU.
4 Roll Crushing System
WB-400-280-x roller crusher is a 4 roller crushing system designed for glass crushing, mineral crushing, stone crushing and recycling crushing.
The machine has a mains connection value of 3PH/ 400V, 32 A and is in energy efficiency class IE4. The machine weight is approx. 1500KG. The noise level during the crushing process is approx. 85 dB(A). The stepless motor control allows precise adjustment of the speed to the task at hand. Remote control allows the operator to maintain full control of the process even from a distance. In addition, the motor is thermally protected to prevent damage due to overheating.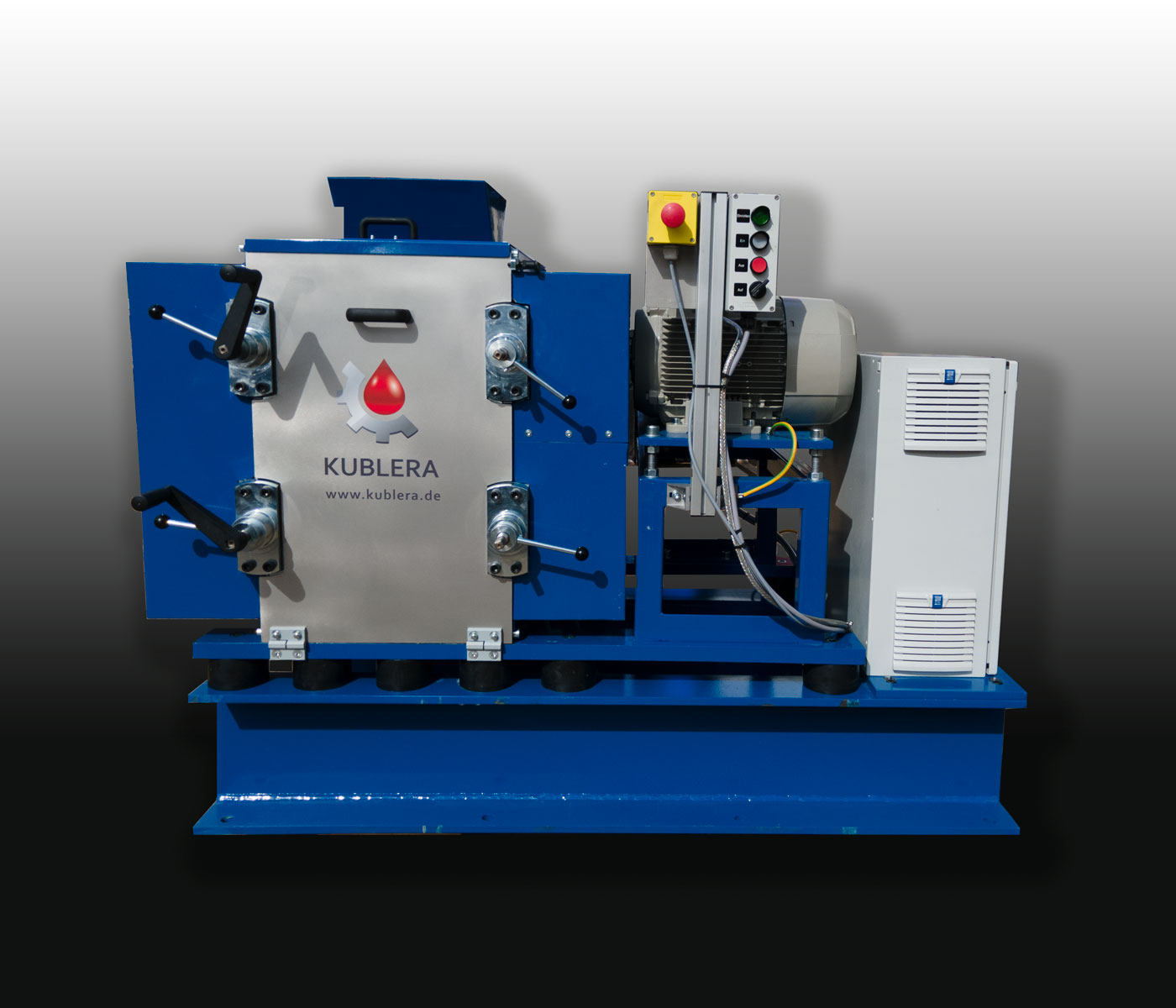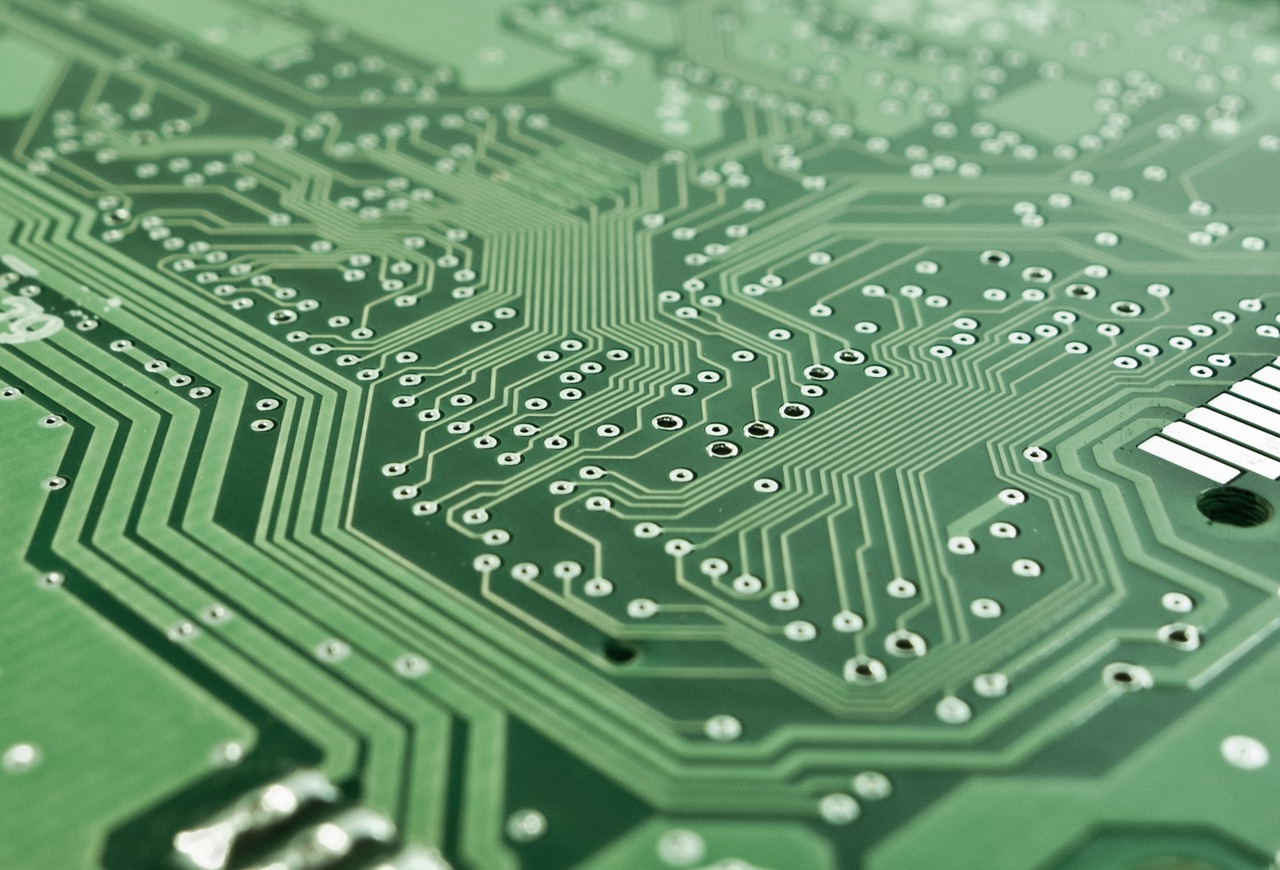 Technical data:
⋅ Power supply value 3PH/ 400V
⋅ 32 A Energy efficiency class IE4
⋅ Machine weight ca. 1500KG
⋅ Noise level during crushing process ca. 85 dB(A)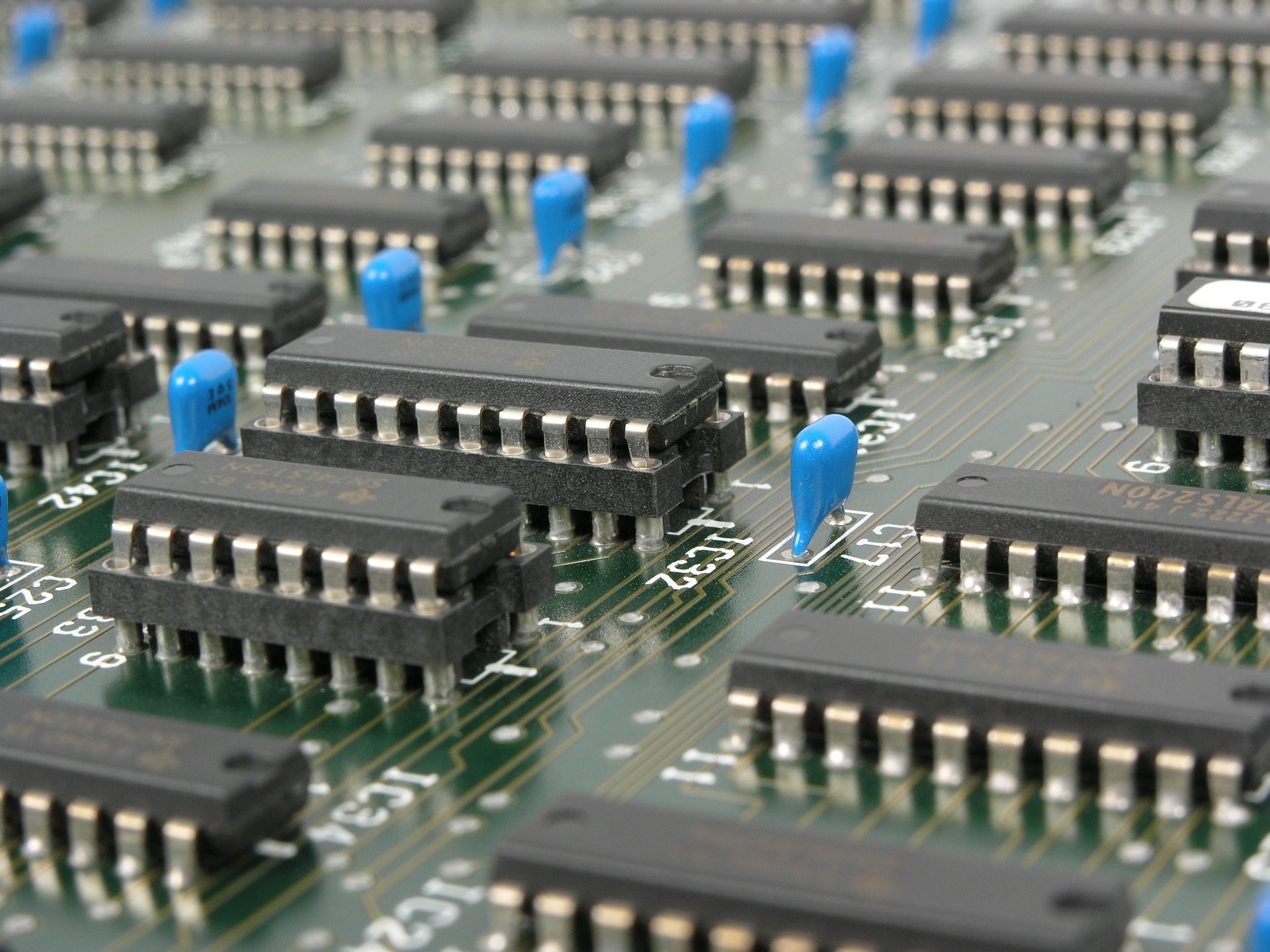 Control technology:
⋅ stepless motor control to fixed value, variable adjustable
⋅ Remote control possible
⋅ thermal motor protection
⋅ Main switch on the control cabinet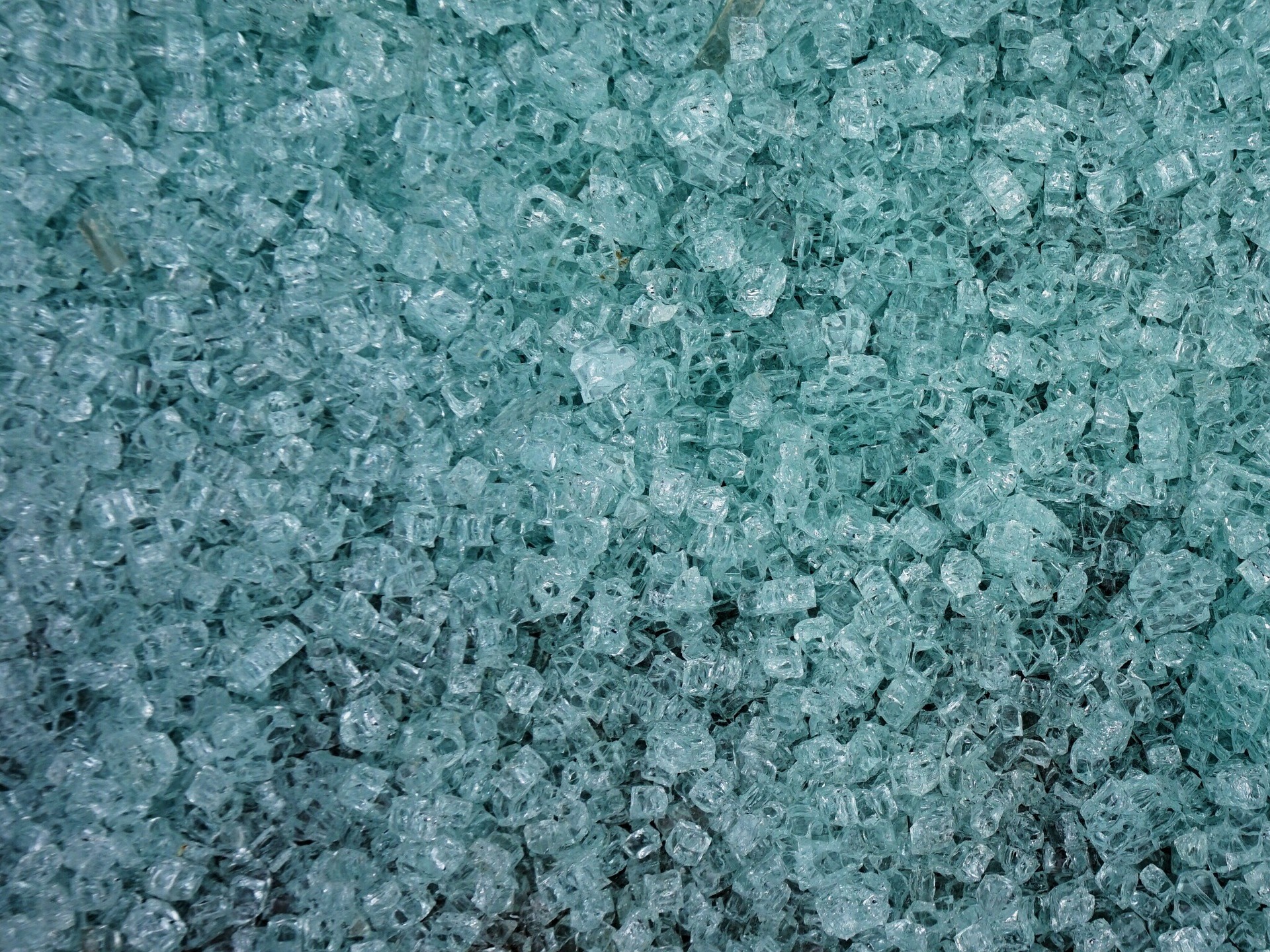 Product
⋅ for breaking bulk material such as glass, stone, etc.
⋅ Crushing diameter: max. 30 mm as initial product (variable)
⋅ Crushing product variable as granules to powder
⋅ Feeding crushed material manually
⋅ Power: 10 KW
⋅ Crushing width: 400 mm
Two electric motors each drive a pair of rolls, which are arranged vertically and have a high-strength wear coating. The machine is loaded either manually or with the aid of an automatic feeding device via the feed hopper on the top. The machine can be started by pressing a button or by remote control of a higher-level conveyor system. The roller pairs are arranged horizontally and can be moved variably in relation to each other in order to be able to adjust the pieces to be crushed during operation. The roll adjustment for setting the crushing thickness is implemented on the input side by means of a handwheel.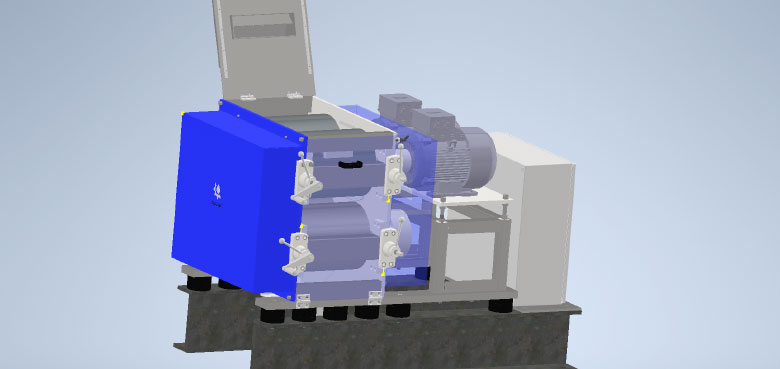 The crushing chamber is closed by protective plates which can be easily dismantled for daily cleaning without tools. The design allows the production of variable particle sizes. The crusher has a two-stage design (2 pairs of rollers). However, direct production of flour is dependent on the initial particle size and 2-3 passes might be required to safely achieve a minimum particle size. The produced crushed material is ejected in the lower part of the machine. The crusher has an ergonomic feed height for loading by hand and two extraction points are provided on the machine side.
Due to its high power of 10 KW and a crushing width of 400 mm, it also processes larger quantities of bulk material in the shortest possible time. It has a variable crushing diameter of max. 30 mm as initial product and can produce manufactured granules or powder according to the customer's request. The feeding of the crushed material is done by manual operation. The WB-400-280-x is quiet in operation and has a maximum noise level of 85 dB(A). Power is connected to the mains supply 3PH/ 400V, 32A with energy efficiency class IE4. The machine weight is approx. 1500KG.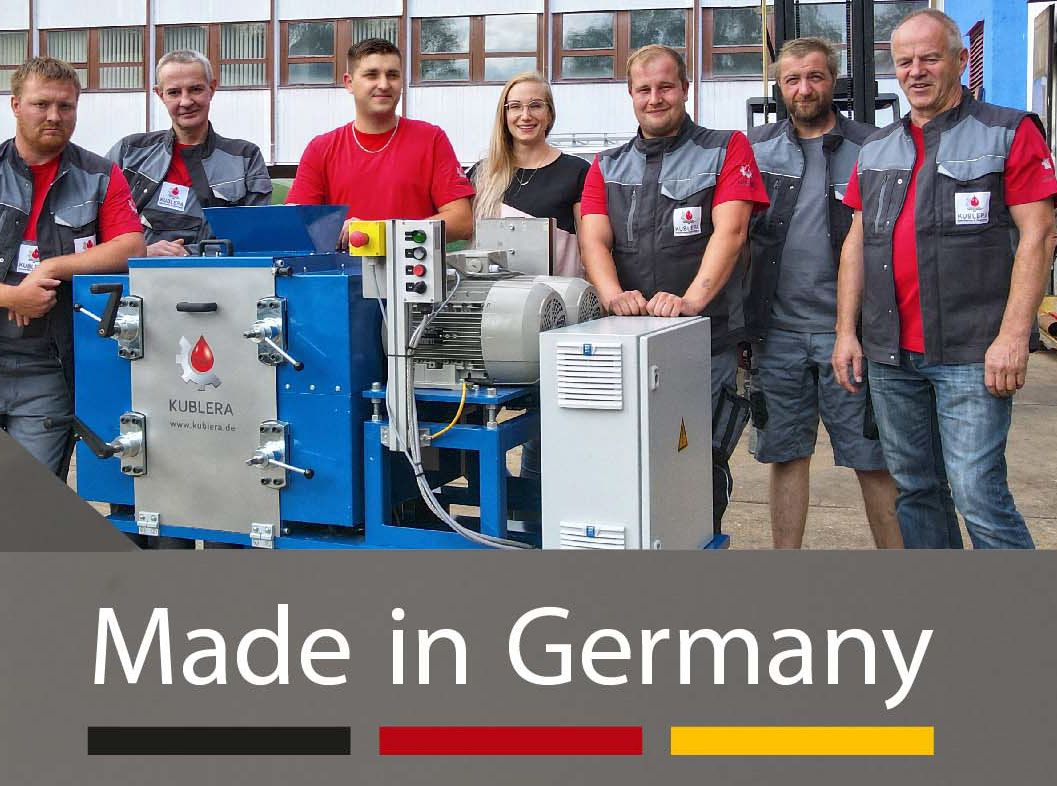 created according to customer requirements
The WB-400-280-x roll crusher is a project that was created according to customer requirements. The complete design and manufacturing was done in-house, including the in-house control cabinet construction. Assembly and commissioning were also carried out in-house. The roll crusher has a 4-roll crushing system, which was convincing in meeting the customer's requirements. The customer was very satisfied with the final result, the WB-400-280-x roll crusher, and we were able to meet his expectations. The design, assembly and commissioning are carried out by our experienced staff.